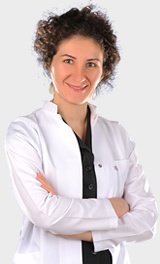 About Us
DENTIST EVREN OZDEMIR
Graduated from Faculty of Dentistry, Istanbul University in 2003. In 2009, attended to Basic Implant Training Course, covering surgical and prosthetic aspects in treatment of toothlessness through the OSSEOINTEGRATION principles by Branemark System & Replace System. In 2010, attended to trainings on the subjects of aesthetic dentistry and laminate veneer. Attended to various courses, trainings, conferences and seminars especially regarding aesthetic dentistry, implant, prosthesis on implant and gingival treatments.

From 2003 on, worked for Bahcesehir Gencer Clinic and Bosphorus Medical Center; worked in her private dentist office between 2006 – 2008 in Artvin. Continuing her work in her clinic in Balmumcu, Besiktas.
Following the conferences of institutions such as OSSEDER, EDAD, TOID and TDB regularly.
Objective; providing high quality and up-to-date dental service, achieving more natural and aesthetic results. Therefore, follows rapidly progressing innovations and technologies, closely.
Speaks English.
Dentistry practices are environments which require meticulous cleanliness and hygiene due to procedures involving saliva and blood which provide a risk of infection for the health officers and patients. In our clinic every patient is treated as if infected and all surfaces as well as filling boxes, buttons, reflectors, x-ray tubes, etc. which are touched are disinfected or covers are changed. We are utterly cautious to avoid contaminatıon of the medical instruments and materials which we continue to use (drill boxes, fillings, impression materials, etc.).
Devices are sterilized by a steamy compressive high heat sterilizer which is required in dentistry. This method is internationally accepted and seen as the most effective sterilization technique.